Hen parties in London are always fantastic, from the gourmet cuisine to the endless shopping opportunities to the glamorous nightlife. The range of daytime activity ideas is even bigger At GoHen we never lose sight of what a big weekend this is for the blushing bride-to-be and we work hard at creating memories that the nearly-wed and her guest will be laughing about for years to come.
Whether you want to get a little cheeky with some pole dancing lessons, or keep it classy with cocktail mixing, London hen activities can provide endless entertainment to help you have the perfect party you deserve!
11 Hottest London Hen Activities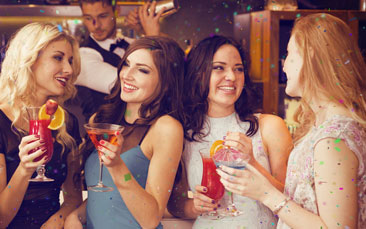 Your guide to hen activities in London
London Ladies
Life in the big city hurtles forwards at a manic pace, but there's no reason your hen activities have to be just as frenzied. A relaxing pampering day can be just what the bride needs after weeks of wedding planning stresses, with back, neck or shoulder massages to release the tension, and facials, pedis and manis giving a gorgeous pre-wedding glow. And with steam rooms, saunas and swimming pools available too, you'll find a sea of tranquillity in the fast-paced metropolis. A perfume making session is another fun and laidback London hen activity, and you'll have your very own scent to take home and remind you of the day. And for a highly elegant treat of a spot of afternoon tea (you can even zip it up with a glass or two of prosecco), with scones and pastries as you re-tell the tales of the night before.
"London hen activities? You're 'avin' a laugh intcha?!?"
Hen activities are perfect to share a few giggles with the girls, whether it's at a comedy night or during one of our laughter filled party ideas. You can try your hand at your own go at a mini-musical in the heart of the world's most famous theatrical city with a choice of dance classes including; Chicago, Hairspray, Grease, Mamma Mia or Thriller.
Alternatively, you can add some "Ooh la la" to your laughs with a can can lesson or get a little risqué while learning the sultry art of Burlesque?
Whether you want action-packed laughs on a go kart track or cheeky sniggers during a life drawing class we'll make sure all the girls are laughing together throughout your weekend. We can give you ideas tailored to your group and help you build the wickedly memorable weekend away.
London Luxury
There's no doubt London is a city with some serious class - the Queen doesn't just set up house anywhere, you know. From Kensington to Chelsea to Knightsbridge, the city is a hotspot for sophistication and refinement, so why not make sure your London hen activities have the same panache? If you know your hen group enjoy a civilised tipple, treat them to a wine tasting session! It's an elegant way to get the party started, as well as finally learning the difference between Blossom Hill and Beaujolais. Find the perfect accompaniment to the wine at a Jamie Oliver cookery class, where you'll learn to cook food worthy of the Naked Chef himself - as well as chow down on it afterwards, of course. And for the sort of once-in-a-lifetime experience that only London can offer, why not take a trip in the iconic London Eye, for unparalleled birds-eye views across the city?
Look Around London
England's capital is a cultural haven and there are plenty of things to in London! There are thousands of different sights to see across the city, including iconic landmarks like Buckingham Palace, Big Ben, the Tower of London, and Trafalgar Square. There are also world-famous museums and art galleries around, most of which are free, so hens might want to stop by the V&A or Tate Modern if they have a quiet few hours before they leave. Shopping is another great way to spend some time on Sunday morning before heading home, and everything from touristy knick-knacks to exquisite designer goods can be found in London shops.
Booking your London hen activities with GoHen ...
At GoHen we simply don't believe in hard sell or giving you less than the very best at great prices.
Our dedicated account managers will work with you to help you build the perfect weekend. Once you have an inkling of the London hen activities you'd like to try and a rough idea on numbers we'll send you a hassle free no, obligation quote.
You can then tweak the package or ask for more suggestions. Once you're happy we'll do all the running around on your behalf, leaving you free to get ready and enjoy the weekend knowing that every detail is in safe hands.