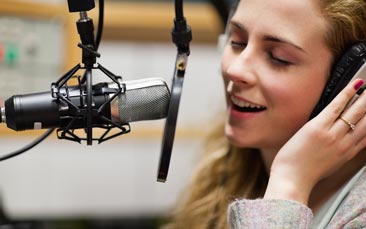 If we're being honest, we've all had those moments in the shower where your voice sounds just so fantastic it seems inconceivable that our overwhelming vocal talents haven't been picked up by the talent scout (who just happened to walk past your house at that moment). It's a frustration we all feel here at GoHen. However, all is not lost, as we're giving you the chance to make your own smash hit that could finally make all those big-shot music producers take notice of you and the hen party girl band. In our London recording studio, you'll finally be able to set your inner Beyonce free!

The bride-to-be will be made to feel like the star of the show, taking centre stage in the vocal line up. Or if she's nervous you can all help her out.

Okay... so, unfortunately, we can't guarantee that you'll hit the dizzying heights of Beyonce, but we can promise you a brilliant, unique, fun session in a professional recording studio. A professional technician will guide you around the studio and then guide you through a 2.5-hour session that'll see you and the girls recording up to three songs of your choice from our giant selection. The sound engineer will then mix the finished product that will surely soon have Simon Cowell filling up your inbox with promises of fame and fortune?

This recording studio London hen party will also allow you to take your smash hit away from the London based studio as a memento of your chart-topping day that's sure to make the bride-to-be feel like an absolute star.

And don't forget to take the final recording along to the wedding reception and seal a copy to the DJ to receive its first airplay.