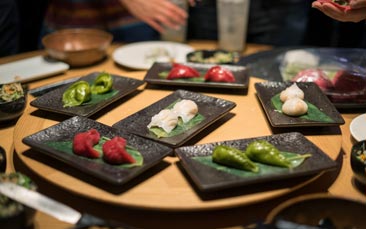 Ok, hands up, here at GoHen we're ever so slightly, completely and utterly food-obsessed but we've never met dim sum we didn't like. Really, who doesn't like dim sum?!?
And for any brides who love food (making, eating, talking about) as much as we do this is the perfect hen treat. You'll be taught by expert Chinese food chefs. As well as learning how to cook dim sum, you'll learn all kinds of fabulous tips for cooking Chinese dishes.
The session will begin with a mouth-watering cocktail to toast the bride-to-be. You'll then meet your culinary creative who will give you a rundown of the session, working alongside a professional chef really does give the session a Masterchef feel.
You'll learn how to prepare and cook the fillings, roll the pastry to the perfect consistency, then the really delicate operation of filling and folding. You'll also learn other handy tips for cooking authentic Chinese dishes.
Best of all, you get to eat your finished creations. But that's not all, you'll also sit down to a delicious meal of special dim sums. Perfect for the foodie bride on her hen party in London.
Menu
Fried
Potato & edamame cake (v)
Vegetable spring rolls (v)
Steamed
Spicy vegetable dumpling (v, gf)
Seafood dumplings (gf)
Har gau (gf)
Chicken & cashew nut dumpling
Spinach & mushroom dumplings (v)
Golden dumplings (v, gf)
Rice
Honeyed chicken rice pot
Braised chilli aubergine rice pot (v, gf)
Dessert