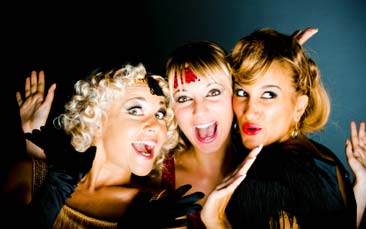 Because we can Can-Can! It's one of the most famous dance routines of all time, celebrated everywhere from Paris to the old Wild West and from the Vaudeville to various stages of London's West End. This routine caused shock and consternation and was actually banned from being performed back in its heyday (although back then the dancers performed it with nothing on under their skirts).

While everyone thinks they know the Can-Can, the real dance is hugely skilled and incredibly energetic. Our hen party can-can class will set you up for a fantastic class which is fun, often hilarious (we all have that one friend!) and really physical. If you thought the dance simply involved bouncing on the spot and kicking your legs you're in for a shock. This isn't just a brilliant dance but it turns out it's also a huge workout.

Lead by your own choreographer you'll soon learn a new appreciation for the skill involved in the dance. After a quick warm-up to stretch those muscles you'll start working on the dance routine. You'll learn the dance in sections, piecing it together until you have the full routine in its full cartwheeling, knicker flashing, high kicking glory! Our Can-Can hen party dance class will get all the hens laughing and screaming at full performance level.

And of course, if you're really feeling devilish then you can surprise the bride on her big day by dragging her onto the dancefloor to join the rest of the hens for a special performance dedicated to the groom.