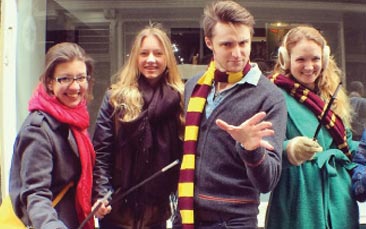 If you're planning a Harry Potter-themed hen party then this is the perfect tour for muggles to get a glimpse of the real movie locations as well as some of the sights believed to have inspired author JK Rowling in our Tour For Muggles hen party.
You've read all the books, watched all the movies, tried casting the odd spell on ex-boyfriends, bosses and people who cut you up in traffic. While none of that has worked (yet...) it doesn't mean that the world of magic is any less real. In fact, getting this close can help bring it to life even more.
So get your Gryffindor scarves at the ready as you visit some of the most recognisable movie locations such as:
The entrance to the Leaky Cauldron
The winding roads of Knockturn Alley
The visitor's entrance to the Ministry of Magic
The Millennium bridge
As well as the trolley passing through the wall, there is an official shop packed full of Potter merchandise which was opened by Professor Flitwick himself, Warwick Davis.
As well as visiting sites from the movie, your expert guide will take you to sites that inspired the writing of the books and tell you behind the scenes stories of the film locations.
The hen party muggles tour of London is a wonderful, whimsical way to indulge in the legacy of everyone's favourite wizard and share plenty of hen party laughs.
At the end of the tour, you can also visit and have your photo taken on the mysterious Platform 9 3/4. This is not actually part of the tour as it is easy to find but the tour guide will be happy to show you how to get there.
Please note; This tour is not affiliated to Warner Brothers movies or Bloomsbury Books.