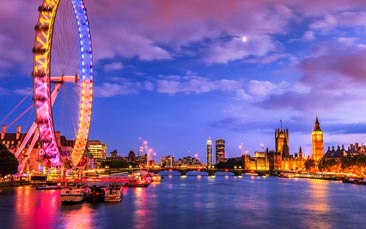 You've seen it on film and TV countless times, it's a national landmark and one of the newest jewels in London's skyline; it can only be the London eye. This fabulous attraction is world-famous and pulls in tourists in their thousands each year to experience this awesome ride.

On your hen party, the London eye could well prove to be the perfect start to your weekend. You'll discover London in a brand new light with a fantastic trip that'll see you step onboard the world's tallest observation wheel. With heights of 135 metres and panoramic views of up to 25 miles, the eye provides some seriously unique and unmissable views of London that you'll never forget.

If you've never taken a ride on the eye before, this is definitely one for the bucket list. As if seeing these phenomenal views isn't enough on its own, you've even got the option to arrange a whole host of extras on the bride-to-be's special weekend.

You can get fast-track entry to skip the queues, as well as a guided host, champagne, afternoon tea and delicious lunches. We can even arrange a river cruise and for you to have a sumptuous dinner in the evening.

The London eye can be as special as you make it, if you and the girls are looking for a perfect way to start your weekend, or to relax and reflect at the end of it, the eye is a must.