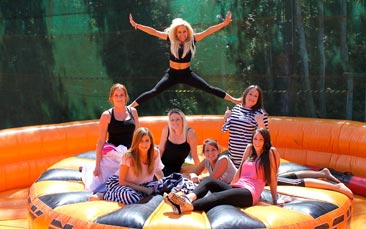 A little bit of madness and mayhem could be just what the wedding planner ordered. After weeks of having her head stuck in wedding coordination mode, a few laughs and a little bit of crazy is the perfect tonic for any bride-to-be and our Inflatable Games delivers a large slice of hilarious shenanigans for the whole group to enjoy with the added bonus that you don't need to be a budding athlete to take part in these games.

Hold onto your hats, this could definitely get messy. You'll face giant obstacles courses, spinning games, turntables, balance beams and all kinds of nasty yet ridiculous fun (courses will vary). One minute you're on the sidelines cheering your team along, the next minute you're knee-deep in foam and screaming at the bride-to-be to pass you the huge foam ice cream before she gets nabbed by the penguin! Yes, it really is that bonkers and that's exactly what makes it so brilliant.

The day will run to a lively soundtrack and each team will be awarded points throughout with the winners of the day receiving prizes.

You'll need teamwork, a never say die spirit and a little bit of a competitive streak to give the best account of yourselves but don't worry, from start to finish this is hen-tastic fun where it really is the taking part that counts.

If you have a group of hens who are up for a challenge and love to laugh then this really is a great activity that will be a sure-fire hit with all your group, get them all working together while laughing at themselves and each other through sheer madness of it all.