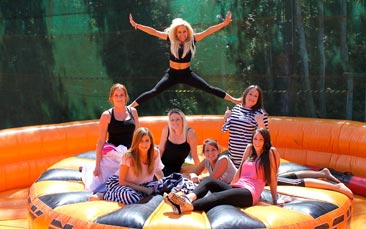 After weeks of stressful bridal mayhem, a little bit of crazy could be just what the wedding planner ordered! Big laughs, competitive action and hilarious costumes are the perfect tonic for any stressed-out bride-to-be. Once she's running around dressed as a giant parrot and bombing through huge inflatable obstacle courses, she'll soon forget all about table plans and bridesmaid dresses!
Crazy, Chaotic & Comical!
Hold on to your hats, this could definitely get messy. Your friendly instructors will introduce you to the games, run through the rules and explain each weird and wonderful activity. They'll be on hand throughout to keep score and observe some semblance of fair play. Now you know what you're in for, it's time to split into teams, do the haka and bring your A-game!
Foam Ice Creams, Giant Penguins & Unruly Hens!
You'll face a range of giant obstacle courses, spinning games, turntables and all kinds of ridiculously fun challenges! One minute you're on the sidelines cheering your team along and the next you're knee-deep in foam, screaming at the bride-to-be to pass you the giant foam ice-cream before she gets nabbed by the penguin! Can hen parties get more brilliantly bonkers than this? We don't think so.
Only One Winner!
You don't need to be a budding athlete to take part in these games, all you need is a never-say-die spirit, a competitive streak, and good teamwork skills! The day will run to a lively soundtrack and each team will be awarded points throughout. But, of course, only one team can go home as winners.
If you have a group of hens who are up for a hilarious (if slightly absurd) challenge, then this one will be a sure-fire hit! Get the girls working together as they release their inner kidult and laugh through the sheer madness of it all. This is one hen party activity that you and the girls won't be forgetting any time soon!