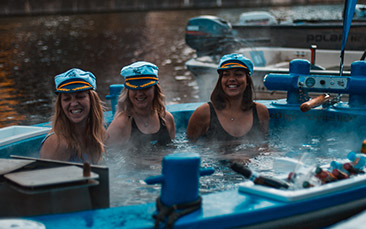 Do you ever think to yourself "I just haven't done nearly as many completely crazy things as I should have done"? It's a common phenomenon but something that can be easily cured by just going a little bit bonkers every once in a while.
This fantastic hot tub boat experience really will bring the perfect amount of madness to what is sure to be a memorable hen party in London. After all, it's not every weekend that you travel through London's waterways in a floating hot tub and it's certainly a big tick on the bucket list of "Crazy Things To Do This Year".
A guide will show you how the tugs work, then you can jump aboard and set sail. You can even bring your own drinks, well, we don't want you getting dehydrated while surrounded by so much water, that would be disastrous. The water in the hot tub is changed before every new sailing and voyages last around 75 minutes.
There are two hen party hot tub locations to choose from:
Angel & Islington - Head along the historic and quaint Regents Canal. One of London's traditional trading routes, the area around the canal has become gentrified over recent years. This is a tranquil spot where you'll see dog walkers and everyday folk as you cruise along in your hot tub ("Nothing to see here.")
West India Quay - Surrounded by the towering skyscrapers of Canary Wharf and some of the city's (and indeed the world's) most important banks, this really is the perfect place to do something just so wonderfully odd. "Hello, merchant bankers! Are you making millions? We're drinking bubbly in the bath!".
Both locations have plenty of nearby pubs and cafes for everyone to enjoy as you get used to being back on dry land. OK, we realise you haven't been in the water long enough to turn into mermaids, but one should never pass up the opportunity to visit a bar with one's best friends.