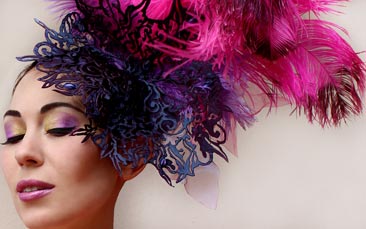 If you're into your arts and crafts and lacking a great headpiece for the wedding then this is the activity for you! Forget big hats, fascinators are in. It's a great way to accessorize your outfit without overwhelming it or worse... upstaging the bride-to-be's mum. With a little guidance, you can use your own style and flair to create something truly unique that you'll treasure for years to come.

Our expert instructor will be on hand to get you started and show you every part of the process as well as giving tips and ideas or help out any hens who get stuck... or become unstuck!?!

You'll find a range of different materials, colours, beads, feathers, veiling and other fanciful flourishes for you to get truly crafty.

It could be something you wear to the big day itself or just some hen party fancy dress as you all give your new fascinating headgear a night on the tiles. You'll certainly stand out from the crowds, create some everlasting memories and a few hen party selfies or group shots.

This activity is perfect for a mixed group and particularly fitting for such a fashion-conscious and elegant city as Bath. If you're feeling particularly posh you could then wear your hats for a spot of afternoon tea in one of Bath's world-famous tea shops. Ask our team for more details.