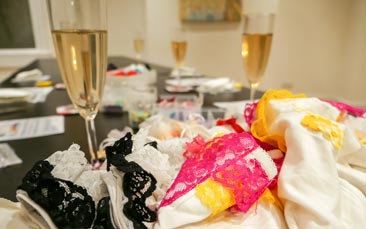 When you think lingerie, do you think of Bridget Jones' large, 'keep everything in control' pants or do you imagine the sort of thing that always catches your eye in the window of Boux Avenue? Either way, our hen party lingerie making class is sure to provide the perfect treat for you and your girl-gang.

Lingerie making is a workshop with a difference, combining glitz, glam and giggles to create your very own masterpieces. You'll have the chance to design, create, and even model a pair of your very own perfectly fitting undies that Bridget herself would be proud of!

You and the girls will be greeted by our professional designers, affectionately named 'Chief Briefs' who will guide you every step of the way to creating the perfect pair of knickers. Don't worry, all the tricky bits on the sewing machine will be taken care of, so you can take all the glory!

Choose from a fantastic range of materials and adorn your smalls with lace, ribbon or beads. Why not go all out and create a pair fit for the Moulin Rouge? Or, create a set of embarrassing bloomers for the bride-to-be!

Whatever you decide to make, our hen party lingerie making class is sure to get all the girls in hysterics while you make some fabulous souvenirs to take home with you. Or you could always wear them later on!