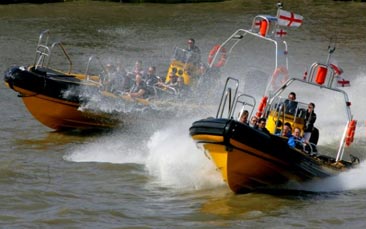 He's the most famous (and sexiest) spy ever, in fact, nobody does it better and our fantastic James Bond experience will give you a taste of his high speed, glamorous life, without needing a license to thrill on your London hen party.
You'll take to the water in the type of powerboat you'll have seen featured in many big action blockbuster movies. And this really isn't a leisurely float along the Thames. Once you reach the centre of the river, the skipper will open up the engines and launch you downstream at a massive rate of knots. You'll fly over the water like Oddjob's hat while you do your best to remain as cool as Connery and as mild-mannered as Moore.
Your mission during the nearly-wed's big weekend is to have the most fun possible and our Hen Party James Bond Thames Experience really does deliver. Sadly we can't provide Daniel Craig but there are plenty more amazing sights along the banks of the Thames, one of the world's most famous and photographed waterways.
The ride is totally exhilarating as the engines really open up with an almighty roar and you speed along in true Bond Girl style.
Hen Party Bond Movies We'd Love to See
Live and Let Hen
Never say (I'm) Never (Drinking) Again
On Hen Majesty's Secret Service
Golden Hen
A View to a Hen
From Russia with Hens
The Bride is Not Enough
The Hen With the Golden Hangover
The Stag Who Loved Me
Hen Another Day
You Only Hen Twice
Henfinger