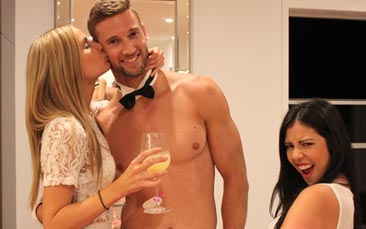 Fancy having a hot hunky male at your every beck and call? Okay, that's probably a bit of a silly question - because what's not to love?! You and the girls can enjoy your very own butler in the buff for one night and one night only!
"Come to Mama!"
Wearing little more than a bow tie, cuffs and a cheeky open-backed apron, your smokin' hot butler will arrive at your chosen venue and get to work! While the rest of the hens are busy checking out his outfit and calming themselves down, you can set your heavenly hen party butler his tasks for the evening.
Sit Back, Relax & Soak Up The Views!
Once your very own handsome adonis has arrived, there's no need to lift a finger as he will take care of everything from serving refreshing drinks (for those getting a bit hot under the collar) to providing some hilarious hen party games for everyone to get involved in. You'll be waited on hand and foot by this charming gentleman, who'll take care of you for the afternoon and treat you like the hen royalty you are.
Cheeky and Chiselled!
If you know that your hen is a sucker for a pair of pecs, a bulging bicep and a perfectly pert derrire, then this activity will have you in the maid of honour good books for months. After all, it wouldn't be a proper hen party without some eye candy! Fun party games, delicious nibbles and a butler with a chest that looks like it's been chiselled by the Gods, what more could a gal ask for?!
This fabulous activity can be held where you like. Whether you want him to arrive at your apartment, house or a private area in a bar, this could be the perfect treat to raise plenty of smiles and eyebrows!
But please try not to return any of our hen party butlers with teeth marks, no matter how tasty they look and how tempting it is, we need them all in perfect working order. Thank you.