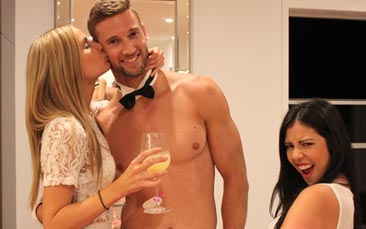 Fancy having a hot hunky male at your every beck and call? Okay, so that's probably a bit of a silly question - because what's not to love! You and the girls can enjoy your very own butler for one night only, wearing little more than a bow tie, cuffs and a cheeky open-backed apron. Whether you want him to arrive at your apartment, house, or a private area in a bar, this could be the perfect treat to raise plenty of smiles and eyebrows!

While some of the hens rush home for their cameras and glasses you can set your hen party butler his tasks for the evening.

Once your very own Man-Friday has arrived there's no need to lift a finger here as your new butler will take care of everything, from serving drinks to providing the entertainment. If you know that your hen is a sucker for a pair of chiselled pecs, a bulging bicep or two and a perfectly pert derriere then this activity will have you in the maid of honour good books for months!

But please try not to return any of our hen party butlers with teeth marks, no matter how tasty they look and how tempting it is, we need them all in perfect working order. Thank you.