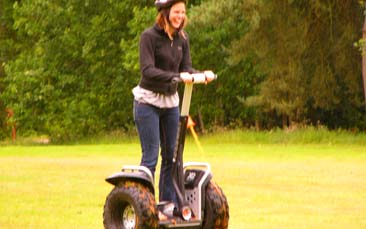 We're not all rally drivers or racing pros, which is why it's fantastic fun to get together with the hens for some motoring action that's hilarious and fun without being terrifying or overly competitive!

These fabulous two-wheeled contraptions take a lot of getting used to: there's no steering wheel or pedals! You'll control your segway with leaning controls and a simple handlebar steering column. Lean forward to accelerate and back to brake and reverse; it's simple in theory but will baffle you all at first. You won't need to worry about staying upright on these self-balancing creations, which means you can focus on beating your fellow hens in a series of hilarious challenges!

Once you've mastered these nimble little vehicles it's time to take them out for a proper spin by teaming up and facing off against one another in friendly and fun hen competition. There will be serious bragging rights for the winning hens so there's plenty at stake!

You'll arrive at the segway activity site and be given a full safety briefing before being taught the tricks to manoeuvre these fun two-wheelers! You'll then have some practice time to get to grips with the segway. When you and the girls feel comfortable and are picking up some speed, it's time to put your game face on! Your activity will finish with a competition to find the best hen in the group!

The nearly wed will be more focussed on cornering and speed than table decor and petits fours with this thrilling and chaotic hen activity that's sure to put a smile on the face of every hen taking part!