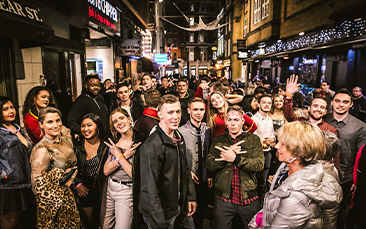 If you don't know London very well or have maybe never been before (apart from the one school trip that time but the less said about that the better!) then it can be a strange place. For starters it's HUGE and finding the best bars can take all night. But not anymore.
You have just 48hrs to give the bride-to-be a weekend she'll never forget, you don't have time to waste in the wrong bars, listening to terrible music and wondering where the real party is. This is London, one of the world's greatest party cities and there's no time to lose.
Well now you don't need to worry, your party is already lined up and waiting for you to arrive! A fantastic party host will take you to five of the capital's best party venues. This is a public crawl, so you'll be joining other like-minded party people. Everyone will be given glowsticks and you can get some UV party paint applied as well for an extra fun makeover. You'll also each get a party wristband. Once you're all looking fabulous it's time to party.
Your host will take you on a tour of some of the very best party spots. All our party guides are locals and know exactly where to see and be seen. Your wristbands will entitle you to a free shot in each of the five venues you visit, and they will also get you great drinks deals for the rest of the night. You'll be partying and dancing with all your newfound friends or you can stick to your own intimate group but it's difficult not to get swept up in the joy of the whole group, especially when you're visiting such iconic venues such as Heaven and the world-famous Ministry of Sound.
All you need to do is turn up looking fabulous and ready to party, we'll take care of the rest on perhaps one of the greatest London hen party crawls ever invented!