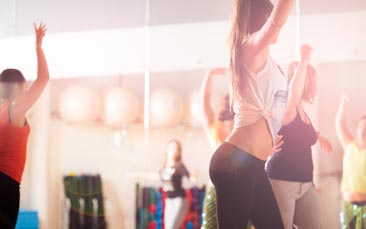 How do you solve a problem like a hen party? You put the bride-to-be in a room with a dance instructor, teach them a professionally choreographed routine and then let them fight it out in a dance-off battle.
The hills really will be alive with the sounds of hen laughter as the girls get to join in the fun in your own private space, so you can sing as loud as you want. You'll begin with some fun warm-up games and all that jazz. Then you'll learn the full routine which will be broken down into smaller sections. Once everyone knows the singular sensation and is comfortable with the routine you'll perform it. But it gets even more fun, you'll get to perform in a dance-off in smaller groups which is brilliant for competitive hens.
If the bride-to-be has always dreamed a dream and is hopelessly devoted to musicals then she really will get a kick out of this fantastic dance class where you'll all be the stars of the show. She'll also get a bottle of bubbly. You don't need to be trained dancers, you don't even need to be good singers. You just need to consider yourself to be enthusiastic, ready for a good time and willing to laugh at yourselves and each other.
No matter what the bride's favourite musical, Mamma Mia. Chicago, Grease, The Lion King, Wicked, the activity can be tailored to her top shows and show tunes. And in case you didn't notice we've hidden seven clues to songs above. How many did you spot?
How Do You Solve A Problem Like Maria The Sound of Music
Sound of Music The Sound of Music
All That Jazz Chicago
Singular Sensation A Chorus Line
I Dreamed A Dream - Les Miserables
Hopelessly Devoted To You Grease
Consider Yourself - Oliver