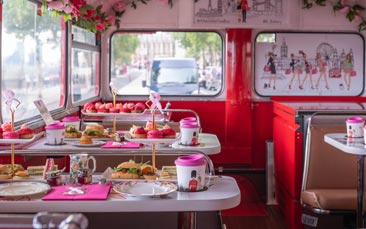 If you've never seen the sights of 'Old London Town' then this is without a doubt the best way to do it. Its rule Britannia all the way as you board a classic, vintage Routemaster big red bus to see the iconic sights of one of the world's most famous and photographed cities.
You'll take in famous sights such as:
Big Ben
Buckingham Palace
Trafalgar Square
Nelson's Column
The London Eye
Harrods
Piccadilly Circus
Eros
Marble Arch
And more...
But if that wasn't enough, to keep the best of British flavour you'll be served a fabulously English afternoon high tea, which includes tasty sandwiches, delicious, dainty cakes, pastries all served on vintage and retro crockery:
Macarons
Mini Cupcakes
Sweet Pastries
Scones
Sandwiches
Mini Quiche
It's all so jolly English you'll be wanting to stand up and sing the national anthem while showing off your red white and blue bloomers! All you need are the Spice Girls, Prince Harry and David Beckham and you've pretty much got the full English set! Groups of 12 or 20 can hire out the complete bottom or top floors respectively.
This is a great chance to get some fabulous hen party photos of all the sights and the hens in action as you tuck into that tea and enjoy plenty of high laughs. Although this is an old vintage bus so please be aware that there are no loos. If you decide to sing a chorus of Rule Britannia as you leave the bus then that is entirely up to you, one thing you can be sure of, you'll definitely be loving with some great laughs, wonderful photos and plenty of fantastic memories of your London hen party.