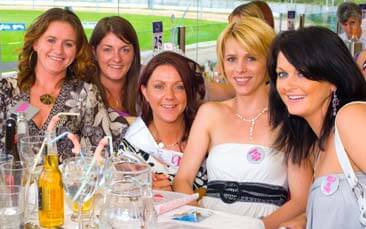 If you and the girls are looking for a fantastic ice breaking activity to set the pace for your big weekend, then our greyhound racing hen nights are the perfect thing for you. This is relaxed, chilled out fun, as long as you haven't made any silly bets!

You'll have the chance to get some drinks in, make a few cheeky bets of course and have some giggles with your favourite girls as you watch the best dog racing around.

If you're not familiar with greyhounds, they're absolutely beautiful born racers. These graceful animals can really go very fast when that starting gun is fired, creating some exhilarating moments in the stadium as everyone cheers on their favourite.

Of course, having a couple of glasses of wine helps the evening's entertainment value, and you're sure to find a lot of laughs here. Whether you're chuckling at the latest bit of hot gossip or laughing out loud at the bride-to-be as she discovers a previously unknown passion for greyhound racing. You'll all have a fabulous time, especially if you win big!

We've picked only the best greyhound racing stadiums in the UK and Ireland for you to visit, so you know you'll be getting an evening of the highest quality. If you fancy, you can even get a gorgeous 3 course meal with views of the track if you let us know in advance.

Greyhound racing is a great way to get any evening off to a fantastic start. It's sure to make the bride-to-be happy to see her closest friends getting to know each other at the start of a weekend of bridal fun!