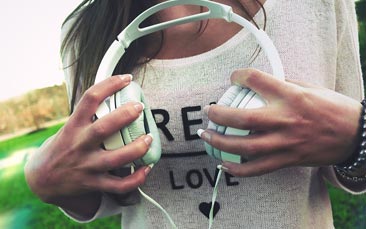 If you really want to create the full "HEN-FEST" experience then what you need is some top tunes. Sadly not every glamping site will allow a full band, but that's no problem, you can still pump up the tunes with a Silent Disco.
If you've never seen a silent disco before (where have you been?!?) the idea is brilliantly simple, rather than huge rock concert-style speakers scaring the neighbouring farmer's sheep, you'll each have a headset which is tuned into your own music. That means you can pick your own party tunes and playlist.
The headsets are completely wireless, that means you're not merely restricted to dancing indoors, like a true festival you can all be dancing under the stars and enjoying the summer breeze as you boogie. Whether it's Beyonce calling all the single ladies or the Arctic Monkeys betting that you look good on the dancefloor you can pick the best tracks to suit your mood. And you and the rest of the girls won't fallout over 'artistic or musical differences' as there are 3 separate channels meaning you can have three separate playlists running at once. So if the bride wants grime and her chief bridesmaid wants some classic 80s cheese then they can both be happy and they can both dance with each other despite the different tunes.
So what are you waiting for? Let's get this party started!
Please note: The Silent Disco comes with a minimum of 20 headsets as standard.