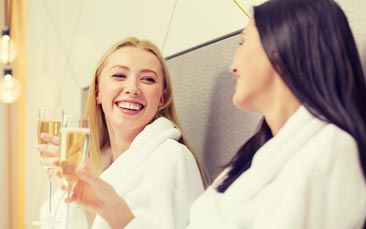 There's just something special about snuggling up to watch a movie in your PJs. But wouldn't it be great if you could combine that PJ home comfort with the glamour and facilities of a cinema?
How about your own exclusive use of an entire cinema...
Where you can wear your pyjamas...
And the cinema gives you dressing gowns and slippers to snuggle up in...
Plus a cocktail/glass of prosecco each...
And an extra cocktail for the nearly-wed.
No problem. GoHen have got it sorted!
Sorry? What's that? You're worried you might get the munchies? Simply help yourselves to the vintage popcorn machine.
You're welcome!
This is the ultimate cinema experience, set in a fantastic London hotel (that just happens to have its very own cinema). You and the girls can kick back, relax and totally unwind in absolute comfort. This could be just what the bride-to-be needs after weeks of wedding planning. She can even have her choice of movie from a selection of classic rom-coms, comedies, action movies and even horror flicks, "Why would she go in there alone?!?".
And yes, unlike a regular cinema you can shout things out, or say your favourite quotes "I carried a watermelon?".
Being in the centre of one of the world's greatest party cities you can team up your cinema experience with a hen party meal or guest list entry to one of the capital's hottest clubs. Ask our team about building you the perfect London hen party.