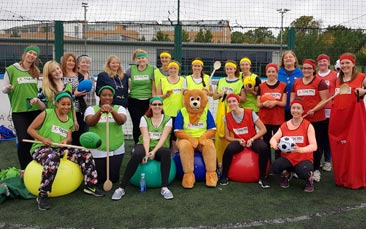 Relive those glorious school years with this hen party school sports day. It's hilarious, nostalgic, hen vs hen competition from start to finish. Were you the school sports star? The class swot? Teacher's pet or naughty schoolgirl? It's time to go back to school and get ready for action!

But don't worry, this time around you can leave your teenage anxiety, fashion disasters (and not forgetting that terrible fringe your mum gave you at junior school) back in the past and instead focus on the games that you used to love, such as the classic egg and spoon, sack and three-legged races! Split into teams you'll compete against your fellow hens with a special prize for the winners and forfeits to any poor performers. The challenge and competitions are certainly heated!

Games will include a selection of the following (exact games may vary on the day, so please let us know if you have any you'd particularly like at your hen party):
Egg and Spoon race
Beanbag on head race
Wheelbarrow race
Spacehopper race
Sack race
Hula Hoop race
3 Legged race
Skipping race
Relay race
Cheating will not be tolerated, well mostly, well, actually, it's kind of hilarious and the instructors will most likely turn a blind eye, but we're not here to encourage such misbehaviour, we're here to make sure you have fun and our hen party school sports day is all about laughter and chaos rather than strict sporting achievement (you can leave that to the swots!).
So if you're up for the challenge and ready for plenty of laughs, it's time to go back to school. As for the rest of you... see me after class!