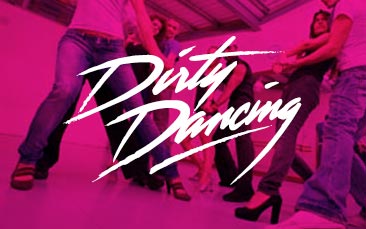 Who can forget hip-shaking Johnny Castle (Swayze) and shimmying Frances "Baby" Houseman (Jennifer Gray), the drama, the romance, the moves in what is without doubt one of the greatest movies of all time!

"Nobody puts baby in the corner" and no one will fail to enjoy this classic hen party activity, where you'll soon be swaying, shimmying and even singing along to that fantastic soundtrack.

With the help of our dance instructor, you'll learn a professionally choreographed routine based entirely on the authentic moves from the movie. In no time you and the girls will be swinging, shaking and dirty dancing! You'll soon have your own new moves and unforgettable fun that you could even use again with a live performance at the wedding?

You'll soon be enjoying a great workout and having the time of your lives in an afternoon that will keep you trim and get those hungry eyes and spaghetti arms working in unison. Even if you're a total dancing newbie, you'll soon be pulling off all the moves and even recreating that famous swan lift!

In fact, you should all start practising those classic lines now... "I carried a watermelon?!?"

If you've got moves we have more great dance classes to choose from.
See more dance class options...