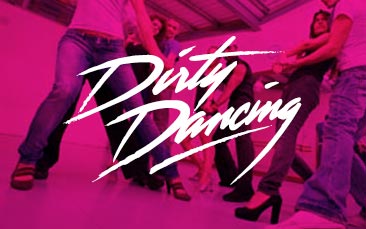 Who can forget hip-shaking bad-boy Johnny Castle (Swayze) and daddy's girl Frances "Baby" Houseman (Jennifer Gray) in Dirty Dancing? The drama, the romance, the songs, the iconic dance number, it's without a doubt one of the greatest movies of all time. So, what better way to celebrate the bride-to-be than gathering the girls and getting down and dirty in this fantastic hen party Dirty Dancing class?!
Look, Spaghetti Arms…
Your dancing instructors will act as your very own Penny/Johnny as they take you through a professionally choreographed routine based entirely on the moves from the movie. It's virtually impossible not to dance to the film's soundtrack as it is, but soon you'll be able to strut your stuff just like Jennifer Gray! They'll teach you how to hold your frame, straighten those spaghetti arms and get your hips swinging and shaking in no time.
Time Of Your Lives!
It doesn't matter if you have two left feet, you and the girls will have the 'time of your lives' (had to be done) as you learn the moves to this epic routine. You'll even get to have a go at that famous swan lift, so get your crash mats at the ready! Of course, you'll begin with a quick warm-up to lubricate your limbs and loosen up... dirty dancing is as physical as it is sexy, so prepare for an upbeat, energetic workout!
God Wouldn't Have Given You Maracas If He Didn't Want You To Shake Them!
This is a brilliant, memorable way to break the ice and get everyone nice and warmed up for that big night out. You'll learn plenty of sexy moves that you can whip out on the dance floor later that night or why not surprise the guests with a live performance at the wedding?!
If the bride-to-be is a fan of the much-loved classic, then treat her to this extra special dance class, where she can shake it out and spend some quality time with her girls before she enters a lifetime of wedded bliss with her very own Johnny Castle.
If you've got moves we have more great dance classes to choose from.