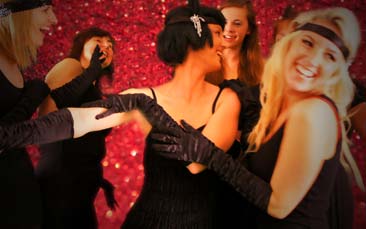 We've all seen the famous flapper girls doing the Charleston, a charismatic and witty dance from the 'roaring 20's' when skirts were getting shorter and prohibition dampened the party spirits across the US.

While we wouldn't necessarily want to live in an era where alcohol was banned but the parties seen in movies like The Great Gatsby really do capture the imagination.

In this fun, jazzy and energetic dance class as you learn the authentic moves to create your own performance with a complete, professionally choreographed routine. The session will include the classic styles such as 'the hitch hiker', 'the shoe shine' and 'grannies knee caps'. This great vintage dance session that will have you smiling throughout, and of course the finished performance will make a great surprise addition for the wedding reception.

The jazz sounds associated with the Charleston are very much back in vogue thanks to singers like Ellie Goulding, Caro Emerald, Diana Krall, Amy Winehouse and even Lady Gaga. You can even add a little fancy dress with fringed flapper dresses, fishnets, feathered head bands, beaded pearls and smouldering red lipstick?

For fans of vintage style this is a fantastic activity and a great tie-in for any bride-to-be who is planning a vintage theme or style for her big day.