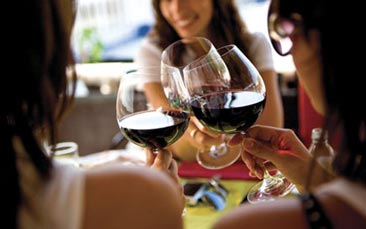 Enjoy a sparkling reception with an elegant wine masterclass perfect for a more sophisticated palette.

Finding the right red or white to go with a certain dish, or picking the best grape to sip on a summer's evening is an essential skill any serious hen needs to master. Our wine experts will give you an understanding of the grapes, history of how certain wines are made and how to identify the lighter notes. They'll also highlight some of the tricks that winemakers use to fool our eyes and tastebuds.

This is the perfect activity for groups who are real foodies or a bride-to-be who enjoys the odd glass of fine wine. It's equally great for new wine converts keen to learn how to identify the difference between a fine vintage and a cheap plonk, a rich Shiraz or a fruity chardonnay. In total there are over 100 wines, Champagnes and spirits for the hens to choose from.

You'll sample fine wines, take part in some taste tests and wine identifying challenges. By the end, we hope that you'll be swirling, swilling, sniffing and slurping like a seasoned pro! And the nearly-wed will get a memento to take away with her so she can keep brushing up on her wine knowledge.