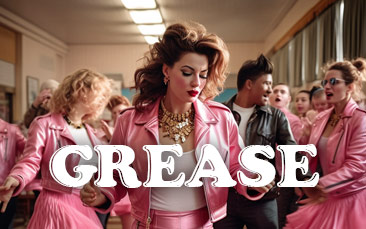 If your bride-to-be loves musicals, then she's going to absolutely adore this. Hen party grease dancing is the complete experience for girls who have always dreamed of throwing on the pink ladies jackets to sing and dance along to the hit tracks of Grease.

Give the hens the gift of becoming Rizzo, Frenchie, Marti or Jan. Well, at least for a day! You could be dancing to the swooning sounds of Summer Nights or if you fancy putting a T-Bird twist on your session, Greased Lightnin'!

Whichever classic tune you end up dancing to, you're sure to have a fabulous time learning all the best dance moves from this smash-hit musical that still manages to thrill girls today (1970's John Travolta is an absolute dish!).

Your expert instructor will make sure everyone is having fun, so less experienced dancers won't end up feeling like its Raining on Prom Night. Also, more confident girls will always be challenged to strut their stuff as well as the stars of the silver screen!

As a special treat, the bride-to-be will be thrust into the spotlight to star in a leading role, be sure to bring along that sexy leather jacket for the grand finale sing-along of You're the One That I Want. 'Sandy!?!'

Our grease dancing is sure to give everyone thrills that simply won't stop multiplying. It's honestly hilarious, and it's a fantastic way to get excited before the evening's events!