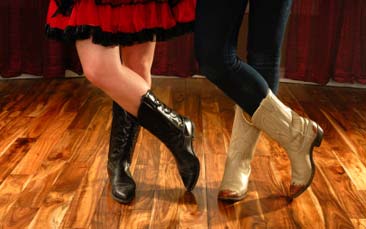 Yee-haw! It's time to get the girl-gang on the dance floor for some line dancing hilarity! This activity is a fantastic crowd-pleaser, it's a great way to get any hen weekend off to a fabulous start and it's sure to warm all the girls up before a big night out. So hop to it, partners!

As one of America's greatest dance exports, line dancing was considered a sleeping giant until it burst onto the UK dancing scene in the 90s. Since then, that giant has truly woken up, and it's triple stepping its way around dance floors all across the UK. Line dancing has become a smash hit with people everywhere!

You and the hens will discover this fantastic dance for yourselves in a workshop that'll teach you all the most popular moves of the dance. Once you've got the hang of the classic triple, shuffle and lock steps you'll be ready to learn a great routine that's sure to get everyone laughing!

If you want the traditional country and western line dance experience then you're sure to get it here! But if cowboy boots and Dolly Parton isn't really your thing, don't worry. These days you can line dance to everything from One Direction to Kanye West.

There really is something for everyone in line dancing. It's never overly strenuous, but at the same time, you'll never be left standing still. So the next time you hear Cotton Eyed Joe in the 90s disco, you'll really be able to show off your swinging country moves!