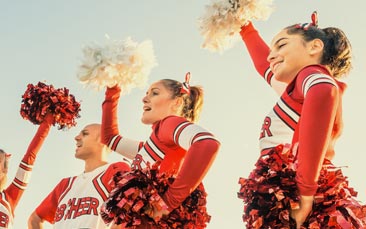 Give us a H-E-N-P-A-R-T-Y! Oh yes, you and the girls will get your chance to try your hand at the hilarious sport of cheerleading. Big across the pond and making a breakthrough in the UK, it's no longer just a case of shaking pom-poms and doing cartwheels. Although don't get us wrong, there is still plenty of opportunity for you and your fellow hens to be shaking pom-poms and doing cartwheels.

A fully trained cheerleading instructor will put you through your paces, starting with a gentle warm-up to ease any stiffness or sore heads from the night before. You'll then learn some basic cheerleading moves and techniques. Depending on the ability or experience of your group the professionally choreographed routine will then be tailored to suit your hens. Not only is the class energetic and fun, at times it's utterly hilarious as the hens try out new moves and tricks.

If the bride-to-be can perform triple somersaults or the bride's mum can do the splits then the instructor will make sure everyone's personal skills come to the front. Those with no experience at all won't be forgotten and the whole group will be included in the routine.

You can bring fancy dress if you want but you'll certainly leave with a whole new skill, you could even have a little practice ahead of the wedding reception and bring your cheerleading troop out of retirement for a one-off public performance especially for the groom and wedding guests. "GOOOooooo hens!"