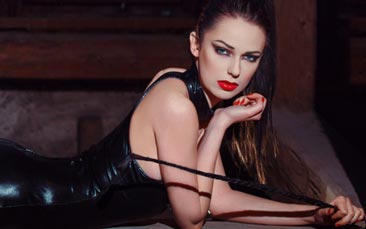 If you're looking for a spankingly good hen party, with a few risque gags and some good clean adult fun then you can now surprise the bride-to-be and her hens with some dominatrix lessons. Since the global phenomenon that is 50 Shades of Grey (over 100 million copies sold worldwide), the world of BDSM has moved out of the dungeons and into polite dinner conversation;

"Have you read...?"
"Yes I have."
"Have you ever...?"
"No not yet but we're having some restraints attached to the living room wall. More tea Vicar?"

A friendly Mistress will lead you through a naughty education into the basics of BDSM - where you will be taught about many of the elements involved, including role play, spanking, foot and boot worship, restraints, humiliation and dungeons amongst many others!

Of course, you will need a willing volunteer to practice on so your group will have a semi-naked (or naked) personal slave to act as your very own whipping boy during the session.

While you will learn all the various shades of grey the whole session is above all a great way to share some cheeky laughs with your fellow hens. If your inner goddess decides to take any of your new-found skills to try at home is not for us to know.

NOTE: You are able to add a fully naked male model to your package! Please speak to your account manager for further details.