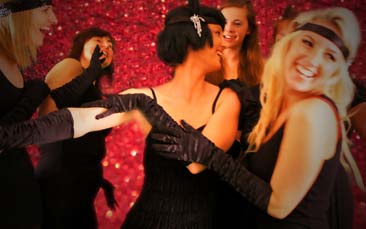 If the bride-to-be is a fan of all things vintage and retro and is planning a few vintage themed touches for her big day you can now bring back even more style from yesteryear with our hen party vintage dance class.
Get 'In the Mood'
Like us, you might well be hooked to Strictly Come Dancing and wish you could learn some of those fantastic dances of days gone by. Well, now you can. The 40s are really fashionable right now and that's where the dance class starts as you learn how to Lindy Hop and swing as if Glenn Miller and his boys were getting in the mood.
'Rock Around the Clock'
"Put your glad rags on and join me hon..." then it's into the 1950s with the fantastic Jive. A fantastic routine where you'll pair up again and learn those iconic moves just like your grandparents did.
Made in North Carolina
The Charleston was indeed invented in North Carolina and is one of the most iconic dances of all time and will definitely give you that Great Gatsby feeling. Flapper dresses, feathered headbands, it's a dance all about freedom and expression that in its day was considered not just risque but inflammatory and would lead young women astray. Sounds just about right for a group of giggling hens!
Wiggle & Giggle
Giggling is definitely on the cards as you learn the routine. This is a completely private class with your own instructor who will teach you professionally choreographed routines to some of the biggest tunes of their day which you're sure to recognise. And it doesn't have to end there, sneak along a copy of the music to the wedding reception and the hens can hijack the bride-to-be on the night and drag her onto the dancefloor for an impromptu performance to delight all the wedding guests.