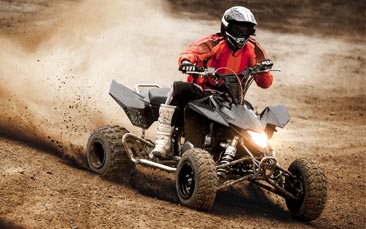 Are you and the girls up for the ultimate off-road driving challenge? On your quad biking experience, you'll really need to be. This is an adventurous hen activity that provides big thrills and even bigger laughs, especially if you end up totally soaked in mud!

Quad biking has long been a top favourite activity with stags all over the country, but it's not exclusive to the boys anymore, as hens everywhere have finally reclaimed these awesome bikes for their own! If you're looking for something that's truly going to get the girls adrenaline pumping on your big weekend, quad bikes are certainly the way to go.

This really is a brilliant driving experience, but it won't be as simple as just putting the pedal to the metal, even if your little quad does show virtually no mercy to most terrain you drive it on. You'll need all your driving skill to get about the tricky tracks and trails that you'll take on, especially if you're racing against your fellow hens!

Of course, any competition you'll get involved with is always both fun and friendly, and you're sure to get all the girls giggling as they get stuck into a driving experience that's sure to break the ice between any hens that aren't so familiar with one another.

If you've got a bride-to-be who fancies something a little different on her big weekend then quad biking definitely won't disappoint!