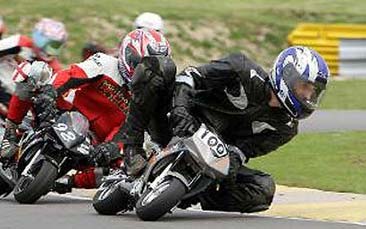 Nutty and bizarre perhaps, but there's no doubt mini moto racing is a hen party winner! Successfully combining all that is best of actual motorbike racing with a genuinely hilarious hen activity.

These little powerhouses are no kid's vehicles, with 39cc engines our hen party mini motos are capable of speeds of up to 30mph - trust us, it feels even faster when you're so close to the ground! They're uproarious fun to both watch and ride, and you'll be crying with laughter as you watch the girls crouch on these 18-inch vehicles - until it's your turn to tuck your knees up and get on too, of course!

First, you'll arrive on the site, before undergoing an all-important safety briefing. You'll then change into the correct clothing, donning your biking leathers and helmets and indulging your inner biker chick. After that, you'll have a few practise laps to get you up to speed, some heats to sort the speedsters from the captain slows, and a big race to determine who the mini moto champion is once and for all!

The nearly wed won't be worried about who's going on the top table or table decor when she's flying around our fantastic circuit overtaking her girlfriends and taking the racing line like a true pro. Raise smiles all around and a glass to the winner afterwards with an action-packed, adrenaline-pumping, side-splittingly funny activity that will set the girls up for a fast-paced and fun weekend with the girls!