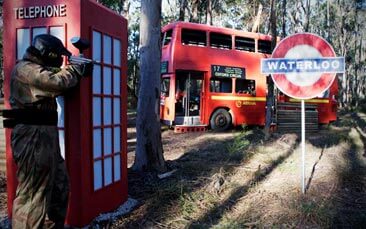 If you're looking for a really fun and unique hen party activity with plenty of girl power and a side order of whoop-ass then paintballing in London is perfect. It's one of the wonderful things about London hen parties, you don't have to play by the rules and you can try totally new adventures, get out in the open air and let off some steam!

We have a selection of sites across London available for you where you'll have a series of thrilling game zones designed to test your skills to the limit! To make sure your non-conformist rule-breaking doesn't go too far, game marshals are on hand to make sure there is some fair play (you're not allowed to shoot these dudes). Away from the firing zone, there is a comfortable safe area and great food.

You will be provided with all required equipment, such as the overalls, padded body armour, full head protection - in addition to the fearsome semi-automatic paintball guns and 100 paintballs as a starter!

NOTE: Why not double up on the exciting activities and add the nearby go-karting activity to your itinerary? Please speak to your account manager for further details.