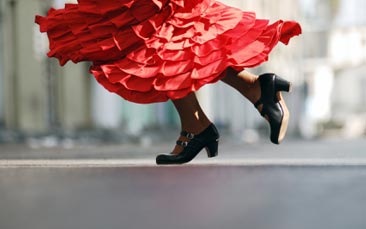 Hands up if, like us, you're totally hooked on Strictly? Here at GoHen HQ we simply can't get enough, we're glued to every episode and have terrible trouble filling the void it leaves in our TV viewing schedule (until Bake Off starts). And if you are like us, what you'd really like is to learn the fantastic sizzling moves of some of the Latin American styles... Well, now you can!

Our hen party flamenco class will give you an insight into one of the sexiest and most dramatic dance styles ever! It combines all the warmth, passion and 'fuego' of Espana with heady rhythms, percussive footwork and strong upper body and arm/hands work.

The class itself is energetic, enthusiastically lead and brilliant fun for anyone who has an interest in dance or just loves to get on the floor. You'll learn all the basic moves of Flamenco, with intricate hand movements, the strong poses and steps, the stamping feet and handclaps. Putting them all together is when the hilarity starts and you can be sure the hens will probably spend more time giggling than they will be stamping and clapping. "Ole!"
And yes, before SCD purists tell us that flamenco isn't featured in the show, it is the basis of many of the Latin American styles of dance and dates back to the 1700s in Andalusia, Spain and was originally created by the Gitanos.

This is a fantastic hen weekend fiesta suitable for hens from all kinds of dance backgrounds from complete beginners to those that have a few dance class trophies tucked away at home.

At the end of your hen party flamenco dance class, each of the hens will be given a certificate.