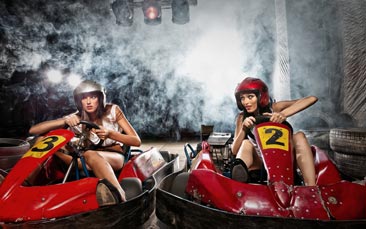 Don't you just hate it when you're all revved up with nowhere to go? Well now you can let rip on a fantastic adrenaline fuelled ride on one of the best go kart tracks in the UK.

Let's face it, we've all had those moments when we're stuck in a jam, caught behind a caravan or grinding through the daily commute, when what we really long for is some open road and the chance to really put our foot down. With this high speed day out all the hens can unleash their road-rage on 350 metres of racing tarmac. It's a chance to stake a claim as the queen of the track and let mere men eat your exhaust fumes. These devilish machines really are no slouches and can hit speeds of up to 40 mph so are perfect for a bride-to-be who is a little bit handy behind the wheel.

The hens will be split into groups and do battle in a 2 hour Le Mans style team endurance event complete with full race commentary, on-track interviews, pit stops, driver changes, and fuel stops to make this a real F1 experience!