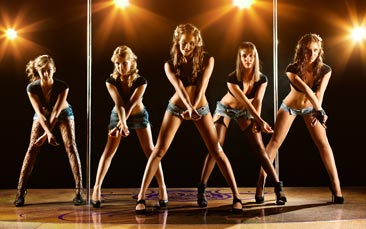 Don't cha wish your hen party was as hot as this? Well, it can be with our fantastic Pussycat Dolls hen party dance class. You learn slick, professional choreography in your own, completely private hen party dance class.
They were undoubtedly the coolest girl band since the Spice Girls with their own unique brand of American girl power with some 'sick' moves. Well... move over Kimberly and stand back Scherzinger because our hen parties will be taking over the dance studios and learning all the body-popping moves of one of PCD's greatest hits.
If you've ever watched a pop video and wondered what it would be like to actually have a dance coach teach you all the professional moves then this is absolutely perfect for you. The nearly-wed will take centre stage in our hen party Pussycat Dolls dance class as all the hens learn a full professionally choreographed routine.
The session will start with a fun and highly energetic warm-up to make sure no one pulls a muscle. Once all your sexy hen party sirens are feeling fresh you'll start learning the moves, one section of the song at a time. Once you learn each section you'll put them together until gradually you build the entire routine.
If the nearly-wed has a favourite PCD song then let us know and we'll make sure that's the song you'll be busting a move to. And there's no need to stay Hush Hush, you can Jai Ho! at the wedding reception by dragging the new bride onto the dancefloor to join the rest of the hens for a world exclusive performance of your newly formed girl band.