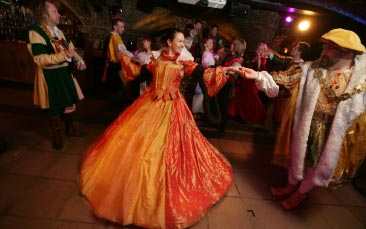 If you are looking for something totally unusual and memorable for your London hen do, then this medieval-themed evening is a perfect choice. You will be transported back to the dark ages (a bit like that time you caught the night bus after a big night out).

You'll be shown to your table and served a delicious four-course meal, featuring medieval dishes and served with period bowls and cutlery (so expect to be using your fingers). Tuck into a veritable feast based upon the sample menu listed below, enough to fill the appetites of even the hungriest hen!

The package includes unlimited ale, wine and juice with the meal to keep you hydrated and in the party spirit!

There's also hilarious live entertainment to keep you in the party mood. Set in the medieval period this live show will get your whole party joining in and it's more than likely that they'll give the guest of honour a special treat. For added fun you can go in fancy dress, you certainly won't be alone as many guests at the banquet will have donned period costume especially for the occasion.

Sample menus

Banquet Menu

• Vegetable soup
• Platter consisting of meat, cheese and pate, served with salad & pickled vegetables
• Roasted chicken in a traditional medieval sauce, served with roasted vegetables and roast potatoes
• A delicious fruit pie with cream

Vegetarian Option - Available upon request at time of booking

• Vegetable soup
• Mozzarella and tomato tower with baby leaves and balsamic glaze
• Roasted butternut squash filled with butterbean and root vegetable, and topped with cheese
• A delicious fruit pie with cream
Please note: this is a seasonal menu and may be subject to change.