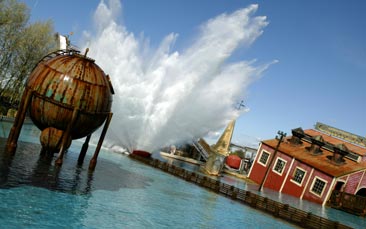 For thrill-seeking, adventure-loving, full-throttle action, a day at Thorpe Park Resort really is hard to beat.

Thorpe Park Resort is up there with the best in the world, with over 30 thrilling attractions and rides to keep you utterly dizzy throughout the whole day and offers something for every member of your party.

Once inside, the resort is yours to explore with a large array of adrenaline-fuelled rides that will delight even the most demanding white knuckle hens!

Attractions include:
Tidal Wave - This super-soaking splash is one of the UK's tallest log flumes, plunging the hens over 80 feet to guarantee they're utterly drenched when they step off!
Colossus - Twisting and turning through ten exhilarating inversions up to 45mph, this monstrous ride will leave the hen heads spinning for a total rush.
Nemesis Inferno - Over 750 metres of mind bogglingly unpredictable track, firing hens along at speeds of up to 50mph... this fearless ride will see you spin, swoop and dive!
Stealth - Experience what is like to go from 0 to 80mph in under two seconds, going vertical for 205 jaw dropping feet before coming straight back down with a few corkscrew turns for good measure. This is a game changer!
The Swarm - The UK's first winged rollercoaster, you'll spin 180 degrees and plunge 127 feet at speeds over 60mph!
SAW - The Ride! - The first horror movie themed rollercoaster in the world, this "beyond vertical drop" sees you drop 100 degrees from a height of 100 feet.