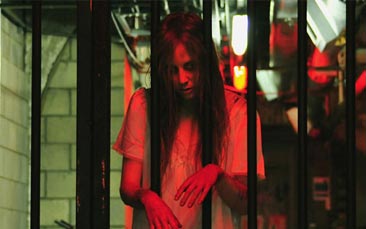 This fast-paced live-action game is terrifying and hilarious in equal measure and will have the hens screaming with laughter... or possibly fear!
Our hen party zombie escape game will see you locked in a room. There is only one door out which is locked behind you. Once you enter the only way out is to solve the puzzles, find the key and breakout. It all sounds simple enough but the only minor snag is the zombie chained to the wall. The fact that the undead brain muncher (played by a live/undead actor) is chained up is the good news. The bad news is that you have just 60 minutes to escape and as time passes the zombie's chains gradually extend giving them access to more and more of the room, bringing him/her/it closer to you as every minute passes.
To keep your brains tucked inside your heads (rather than becoming zombie lunch) you need to solve the puzzles and locate the key all before you get grabbed by the half-dead fiend. Simple...right?
The gameplay feels like a combination of Saw, The Cube and The Crystal Maze all with added The Walking Dead impetus created by the fact that any second now one of you could be receiving a bite that could have disastrous consequences. And this is one bite that is definitely worse than any bark. You'll need teamwork and brainpower in a game that draws from your own personal knowledge and experience as you share all in a bid to secure your freedom.
This is absolutely superb fun and something totally different from the usual hen party games. It's scary, exhilarating but will hopefully have a happy ending. If not the groom will just have to marry a living-dead bride with in front of a horde of living-dead bridesmaids.