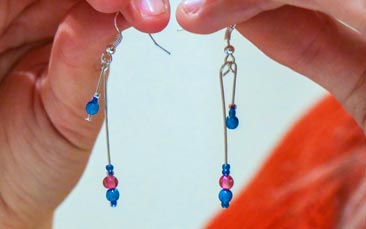 Now when we say "crafty hens" we don't mean those that know how to sneak into a nightclub for free and sip on drinks from the optics when the barman isn't looking. Our "crafty hens" are those that love to learn new skills and exercise a little artistic flair. And if your bride-to-be is a little crafty herself and loves jewellery then this is a great activity for hen parties of mixed ages as everyone can get involved.

With the help of our jewellery making expert, you and the girls will each create a couple of pieces, choosing from bracelets, earrings, and necklaces. The jewellery is made out of an array of different beads including glass, ceramic, and semi-precious with our expert teaching you techniques and giving handy tips and design ideas.

Once your pieces are complete you will get to keep your mini creations. Not only will you learn a new skill and craft but these are ideas and talents you can take home with you. Handmade jewellery is big business and you can put your newfound skill to good use making unique gifts for friends and family. Who knows? You could turn out to be a real dab hand at it and get your own stall "Daaan the maaaarkit" as the Albert Square jewellery sellers might say.

Either way, you can be sure of a fun and creative afternoon and more than a few laughs (we all have than one friend who can't seem to make anything that doesn't include a few hen-tastic innuendos!).