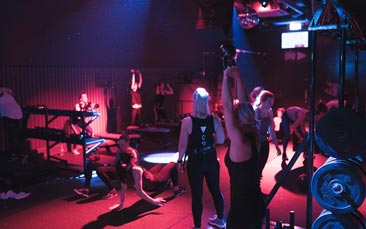 Ministry of Sound is one of the coolest names in dance music. Their legendary clubs have played host to the world's biggest DJs and have been a major influence on dance music since the 90s. For club music fans, they are a Mecca of hip-hop and funked up cool. And now you can even get fit with a Ministry of Sound hen party fitness class.
The class takes place in a private dance studio set inside the iconic London venue (a place so cool even Boris Johnson once helped to protect it). You'll be greeted by a fit and friendly instructor, once you're all ready, you'll begin with a gentle warm-up. Then things will start to get a bit hotter as the beats and moves start to get quicker.
We all love to dance, we all love good tunes, so this is just the perfect marriage, it's like Zumba, or boxercise, a great workout but this time the music is amazing! If you want a fun dance class this really is a great place to be, a Ministry of Sound hen party fitness class could also be a handy antidote to any excess cocktails from the night before.
* Book the late session (10pm) and you can have free entry to the club itself, there are showers and changing facilities so you'll be feeling fresh and looking fierce.