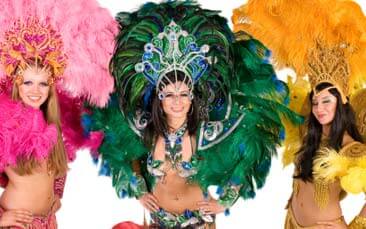 Samba, it's sexy, evocative and the very heart of Rio's Carnival. These Latino beats have translated into a huge number of massive chart hits but the sexy dance itself is just a little bit different.

The hens will meet the samba dancing instructor for a rundown of the class and a brief history of samba. She'll then teach you the key samba moves so you get a little Latino action going. Once you've mastered the basics you'll then start to learn sections for a complete routine. It's Samba Time.

It's not just snake hips and having Latino rhythm, samba itself is an intricate and especially sexy dance form that has moves that have really caught global attention (like twerking for example). Trained dancers will instruct you in the sultry art of Samba including; Voltas, Boto Fogos, Kick Change, Samba Strut & Side Steps.

If you've really got the moves and are feeling particularly supple then you might even be able to brush up on your twerking and limbo. Samba is one of the most popular and familiar sounds of Brazil and Carnival is now celebrated throughout the world yet few have quite the visual impact or pure sex appeal of the stunning folks of Brazil.

And let's not forget they are also the nation that brought us caipirinhas - a sizzling cocktail you simply must try when you're out on the town.

Top Samba Fact - "twerking" has been a salsa move for decades. Long before Miley Cyrus got into all kinds of trouble for her moves, Brazilian beauties have been shaking their booties at an almost hypnotic and pneumatic pace.