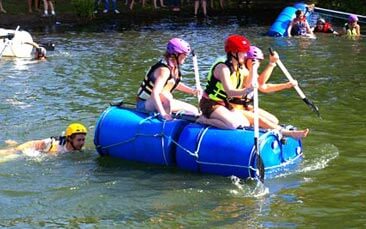 This really is an epic challenge for hen who love competition and adventure but also like to use a little bit of brain power. You also need to be a little bit daring as there's a good chance you're going to get wet. A lot.
You'll pick teams at the beginning of your session before getting your games faces on and giving your opponents the eye of the tiger. Our instructors will be with you for all three events to give you coaching and do their best to observe some semblance of fair play.
Paddleboarding
Paddle boarding is best described as standing on surfboards and then propelling yourselves through the water with very long paddles. Of course it's far more refined than that but not easy. You need the balance of a ballerina, the speed of an Olympic rower and the lung capacity of a hen whose just fallen off a paddleboard!?!
This is a relay race.
Human Table Football
Does exactly what it says on the tin. You don't need to like football (it's not like the real games) you just need to like laughter! You'll enter an inflatable pitch and be strapped to giant poles. Hilarious team fun where teamwork really is everything.
Raft Building Relay Race
Working in your teams you'll build rafts from a mixture of a selection of materials. That takes a little brain power. Once your craft are looking ship shape you'll have to put complete faith in your building and race them on the water.
That takes a lot less brain power. But it's a lot more fun!