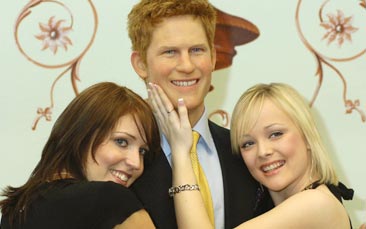 Madame Tussauds really is an absolute institution. Started in London in 1835 the exhibition has presented likenesses of the great and the good through the ages and there are now Tussauds museums around the world.

But the London site is still the most famous and most popular and since all the red ropes and poles and been removed you can now get up close and personal with all your favourite stars. Pose with tiny Kylie, wrap an arm around David Beckham or sit and pout with Kate Moss. You can, of course, grab a quick selfie or get all the hens together for a group shot.

The exhibition celebrates Britain's most loved celebs as well as A-listers from around the world allowing you to answer some of those questions you've always wanted to see for yourself:
Just how big is Beyonce's booty?
How high is Simon Cowell's waistline?
How good would you look arm in arm with Brad Pitt?
Could the lady that works in the corner shop really be the Queen in disguise?
The museum constantly changes the exhibits with the most topical stars on show across the exhibition which twists and turns with famous faces in every corner. As well as the waxworks themselves there are some fantastic moulds to see just how you measure up. Does your hand fit with Johnny Depp's? And who knew Michael Jackson had such big feet?

This is a fun and interesting tour perfect for a mixed group of hens on their London hen party.