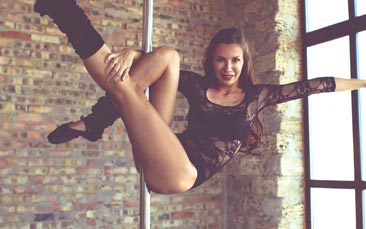 Learn the sensual art of pole dancing at one of our top locations where you will be taught by a fully qualified expert.

Not only is pole dancing hilarious fun (you can be pretty sure they'll be no end of innuendos and laughs) it's also a fantastic workout that helps strengthen the core and other muscle groups that most exercise doesn't reach.

Hen party pole dancing has become an increasingly popular activity with more and more women taking the time to learn this highly skilful dance medium across the UK. Our classes cater for everyone from the complete novice to pole-pro. With help from our instructors, anyone can give this a go and you'll be amazed how much you'll pick up in just one session.

It's a class that will see all the hens wiggling, giggling, grinding and gliding in equal measure, as you make the inevitable jokes about the blushing-bridegroom having no idea just what will be coming his way.

Pole dancing itself is now huge, not only has it become a massive fitness craze and one of our most popular hen party activities but its also a recognised competitive sport with professionals vying in international championships around the globe.

Plus we all have that one friend who you can be sure will take to the pole like a duck to porridge, with plenty of laughs and gags to get the rest of you in the mood. So bring on the dancing girls and have yourselves a fantastic hen weekend.