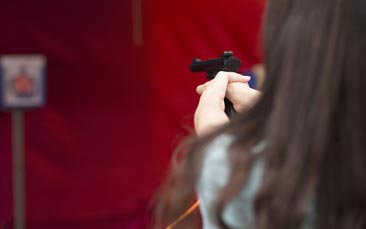 Turn your hen party into a squad of sharpshooting femme fatales with a spot of target shooting. You and your fellow G.I. Janes can get to grips with some heavy metal and give the stag party a serious run for their money.

Fans of action movies or die-hard computer gamers will already be familiar with names of some of the biggest guns known to hen-kind and you really can get your trigger fingers on some of the most renowned guns you'll know from the big screen or computer games. This is your own call of duty with expert instructors on hand to give you tips and ensure everyone follows the safety procedures.

While we do offer target shooting in London, it's our European destinations that really offer more bang for your buck with a serious impressive roll call of weaponry that you simply won't be allowed to touch back in Blighty.

Open fire with a range of weapons, including some of the following depending on where you go; AK47's, Glocks,.44 Magnum,357 Magnum, Colts, Lugers, Pump-action Shotgun, Heckler & Koch and Uzis.

The sessions are run under the safest conditions but competitive hens will have a blast as you will be competing against one another to find out who is the hen party Top Gun with the paper targets yours to take home if you wish.

This is a hugely exhilarating experience and certainly something a little different from the norm. From Amsterdam to Vilnius target shooting is a fantastically exciting addition to any hen party that likes to kick ass!