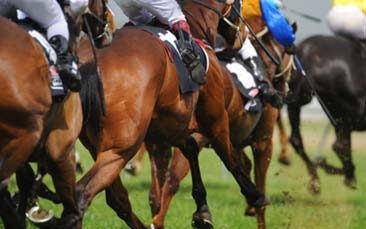 What could be more luxurious than a ladies day at the races? With dozens of race fixtures each year across all of the best racecourses in the UK and Europe, there are plenty of opportunities for you and the girls to be a part of a totally unforgettable hen experience. Horse racing will provide you with some of the more elegant memories from your hen party - as long as you go easy on the bubbly that is...

You'll all receive tickets to go and see multiple races on that day and if you wish to bet, there are plenty of facilities on-site to make that a reality! If your group wishes to eat at the racecourse, there are fantastic dining options on offer in many of these locations, so it's all wrapped up for a great start to any night out. Horse racing is a hen do classic and whether you decide to simply soak up the atmosphere or place a couple of your own bets, it's absolutely electric!

The nearly wed will have no problem forgetting about seating arrangements and meal plans when she's up out of her seat screaming for a ludicrously named horse, betting slips clutched tightly in one hand... glass of Pimms spilling out of the other!