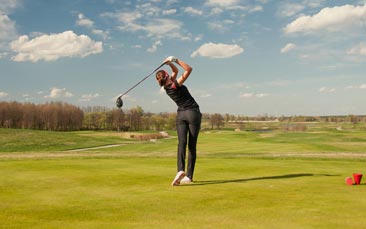 God, last night was great, wasn't it? But now you're paying for it, you've got a killer headache that just won't budge. The few rays of light invading your hotel room are burning your eyes and really you feel like curling up in your pyjamas and sticking on Love Actually. Great plan, except you're on a hen do! You've got to get out there and have fun!

Here at GoHen, while we think you're rather silly for letting yourself get in this state, we also believe you shouldn't have to sacrifice your weekend to a rubbish hangover. So with our hen party golf, you and the girls will be able to get out into the fresh outdoors for some golfing fun that'll get everyone smiling in no time.

But this is more than just a pleasant walk around a nicely cut field of grass, this is actually really competitive, hen on hen fun that's sure to be more thrilling than you might expect! Golf is available in a huge variety of locations too, so you know that you'll never be too far away from the perfect hangover cure.

Pick up those clubs and tee off, you'll need to get around the course as quick as you can to be crowned Queen of the 18th hole. Far from the snobbery of years gone by, golf is actually really popular with girls these days with the likes of Michelle Wie showing the guys exactly how it's done!

If you're after a relaxed, laid back morning, golf is the perfect activity for you. It's competitive, fun and it'll give you and the girls the chance to revitalise for the day ahead. We'd call that a hole in one...