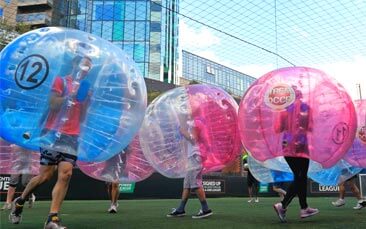 Game on! For those not in the know, hen party bubble football is a hilarious, fun-filled version of 'the beautiful game' that we all know and love... but instead, the players' upper bodies are encased in giant, inflatable zorb bubbles. It has taken over the event scene in the last few years and it is all too easy to see why - it is fast and furious and totally bonkers. You would be hard-pressed to find anything as ridiculously fun as a fantastic workout. You'll certainly work up a thirst ahead of the evening's drinks.

Whereas traditional football rewards silky skills, artistry and poise, bubble football is entirely less subtle, and you will instead bump and barge into your opposition (and even your teammates) like giant inflatable hamster balls. The great part is the soft, zorb bubbles absorb all the impact, so you'll be left rolling, laughing and bouncing as the action just keeps going, without a bruise in sight. It's not just brilliant fun, it's also a really good workout and though there is a referee on hand to uphold a relative degree of fair play (well, kind of), the game does tend to descend into farce, with predictably hilarious results. However, one team will reign victorious and get to enjoy bragging rights for the evening.

Sporty and particularly competitive hens (you know who you are!) will really get a kick out of this. And for hens that have attended lots of parties recently, this is a break from the norm and a completely new experience that the hens won't have seen or tried before.