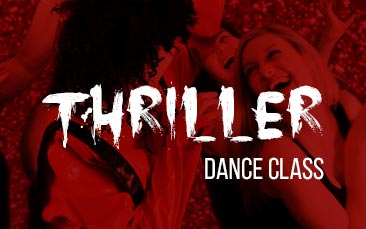 Want to move like the King of Pop? Then now's your chance to point, spin, gyrate and grab like Michael Jackson in our hen party thriller experience! You and your favourite girls will be found to have the soul for getting down in a dance workshop where you'll be busting all the moves you've seen MJ himself perform in the Thriller music video.

Warm up to some classic Michael Jackson hits that could include Beat It, Smooth Criminal or Billie Jean. Loosen those limbs and get ready to throw some serious shapes, they called Michael Jackson the King of Pop for a reason, and if you're even going to get close to replicating his crazy dancing skills, you're going to need to be in top boogying form.

However, with our friendly and experienced instructor close at hand at all times, even girls who have only ever learned to dance by watching their dads at family parties can soon become show-stopping disco queens with some top tips.

After your instructor has taught you the ropes and you've learned some seriously expert moves, you'll build up a routine that closely resembles the thrilling dance seen in Michael Jackson's most-famous video. Once you're all feeling confident, put the whole thing together for a fabulous final performance!

Our unforgettable thriller experience is a great way to treat the ladies to a one-off, fun-packed event, and the bride-to-be is sure to love this unusual but exhilarating session of dance.