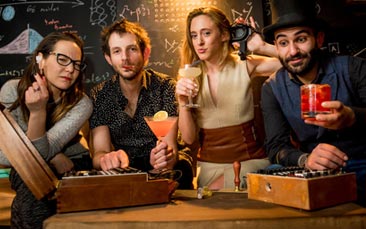 Step back in time and become part of the war effort to help bring about 'peace in our lifetime'. And also to bring about some sensational, personalised cocktails.
You'll enter a WWII bunker and get straight into character as 1940s codebreakers, complete with military costumes (perfect for those hen weekend photo ops).
You and the girls can grab your curlers and twist your hair into victory rolls or other 40s styles. Then you'll have to find the top-secret location but remember "loose lips sink ships". Once inside you'll be transformed as everybody (staff and guests) wear WWII military uniforms and period clothes before entering the War Room.
Once kitted up it's time to look at the vital role played by the operations at Bletchley Park, Britain's code-breaking facility. You'll be given codes to crack, this will involve tasting and smelling ingredients, as well as colours and other factors that will shape what goes into your own personalised cocktail. You'll also work with Enigma Machines to crack each code. Once deciphered you'll hand them to the agents/mixologists who will get to work on creating your cocktails.
This a fantastic day of great costumes (and great hair if you really want to go for it), delicious drinks, code-breaking fun and a chance to capture a small feel for this amazing period in history.
"Your hen party needs you!"