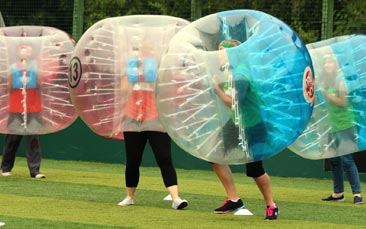 Let's face it, not all hens want to sit sipping afternoon tea or balancing cucumbers on their eyes at a spa. Some hens want a little madness, a little chaos, a little mayhem. If you're looking for something totally different and nicely competitive, with just a hint of "bonkers", then our hen party 'Bubble Mayhen' is ideal.
Bump and Grind!
The event is focused around giant zorb suits, which are soft inflatable balls the players wear on their upper bodies. This allows you to 'bump and grind' like you've never done before as you barge and bounce off each other in a series of hilarious games and challenges.
Victory Awaits!
On arrival, you'll suit up and snap a few squad selfies before you prepare for the carnage to unfold. Your instructor will teach you the rules of the games before you take to the field in search of the hen sporting champ.
The games are fun, fast-paced and downright hilarious and they'll undoubtedly go down a storm with the rest of the girls.
We offer a fab range of chaotic competitions that will pit hugely competitive hens against each other, these include:
Hen Relay Race
British Bulldog
Queen of the Ring
Capture the Flag
To name but a few...
Elevate the Hilarity!
You can also turn up in fancy dress to add to the utter madness of this crazy activity.
Why not combine this epic activity with our equally hilarious School Sports Day? This is a retro games event that takes you back to your formative years. Perfect if some of the hens are childhood friends. You can also add your own St Trinian's twist with fancy dress on your big night out.
Ask our team for more details about combining these two brilliant activities into one huge day of laughs, competition and bonkers fun that is off the scale!